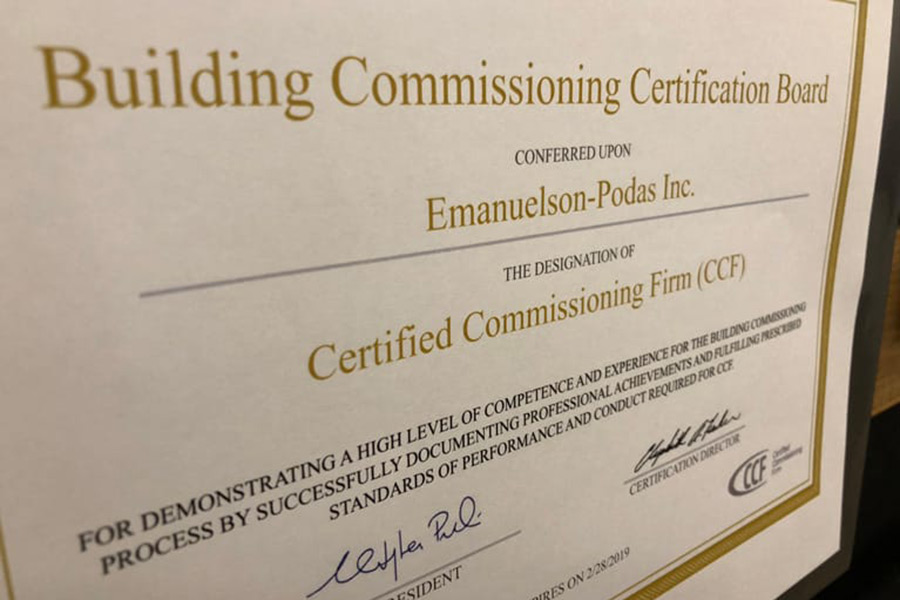 Emanuelson-Podas Earns Certified Commissioning Firm Designation
June 25, 2018
Edina, Minn. – Tuesday, July 17, 2018 – Emanuelson-Podas (EP) recently announced that the firm has been named a Certified Commissioning Firm (CCF) by the Building Commissioning Association of America (BCxA). There are fewer than 60 CCFs in the United States, and EP is one of only two that are headquartered in Minnesota.
According to Rick Dale, CCP, CxTS, "The demand for building commissioning services has never been stronger, and I'm really proud of the program we've built here at EP. Being named a CCF is a great feather in our cap and helps separate us from others whose programs don't have the same rigor as ours."
Certified Commissioning Firms demonstrate the highest standards for professional commissioning firms. Organizations that hold the CCF designation stand out among competitors as experts – with the determination and ability to provide premier services to clients, and a commitment to the advancement of the practice of commissioning.
Candidate firms are required to have one active Certified Commissioning Professional (CCP) who has been actively involved in the practice of commissioning in the last 24 months, and able to show three completed projects with client references.
"EP has offered commissioning services for a long time, but being named a Certified Commissioning Firm is an exciting next step for our program," said managing partner Mike Webert, PE. "Rick has done an excellent job leading the department, expanding our services and pushing us in the right direction. As the need for commissioning services grows here in Minnesota and across the country, I really feel like we're in an excellent position to meet the needs of business owners."
The Building Commissioning Association is an international non-profit organization that serves as the recognized authority and resource on commissioning. Its membership is made up of professionals from the commercial building industry, committed to the highest standards and practices for the commissioning process. Its mission is to guide the building commissioning industry by advancing best practices and education throughout the building industry, and promoting the benefits of building commissioning to achieve buildings that work. The BCxA supports certification programs that set a high bar for the commissioning professionals who manage the total building commissioning process. The BCxA is education-driven and responsive to industry needs by:
Developing and advancing technical resources for commissioning professionals
Forming collaborative relationships with other organizations serving the built environment
Influencing standards, policies and codes that support high performance buildings
Delivering the longest-running annual conference on building commissioning and innovations in the industry
Endorsing certification programs that set the highest industry standards for credentialed commissioning professionals.
About Emanuelson-Podas: Founded in 1957, Emanuelson-Podas, Inc., (EP) delivers expert mechanical, electrical and plumbing design solutions to a select group of clients in a variety of industries. Headquartered in Edina, Minn., the company embraces a work approach rooted in collaboration and partnership, based on the belief that amazing spaces happen when real connections are formed between engineers, architects, contractors and business owners. A values-driven company, EP's key industry areas include the corporate, civic, education, fitness, financial, healthcare, hospitality, housing, industrial, municipal, restaurant, retail and worship sectors.